R Scooter Club of Monterey County
We've never taken apart a Vespa before... this should be fun. The plan isn't just to restore the P125X to it's former stock glory, but has turned into a plan of creating some modifications. Right now anything goes as we hash out the future of our poor little PX. One change we agree on is a new color... no more reddish orange. The new color is probably charcoal black with something else as a two tone. The glove box will also have to go. There has even been talk of converting to a handlebar look with the headlamp on the front fender. Too extreme? Whatever happens, some VW and Harley accessories will make an appearance on our PX conversion.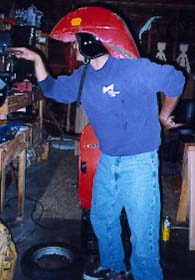 7-10-98
First, we are tearing parts off and assessing what can be kept and what has to go. The shop guys at First Kick told us that new bearings and seals would be needed, so even though the temtation to just try and start it up is there - we've decided against it. Some electric bits are missing anyway, but that's a future problem now. Seems like everything else is there though... the adventure begins. Here Pete displays the proper fender mounting technique.