R Scooter Club of Monterey County
Scratches on the top of the cylinder?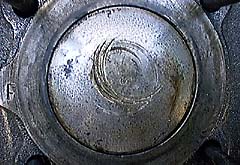 8-20-98
What's causing that?
The head looks fine. Does this mean that we are going to need a new cylinder? Folks on the BBS provided this possible anwser...
It could be that the piston seized at one time and was banged loose with a metal object. This would explain why the head is o.k. It is unlikely that an object (a circlip perhaps) as big as the markings is going to make it through the crankcase and out the exhaust port. It would cause irreparable damage first.
I agree.I would check the barrel and if it's ok just get a new piston.They are relatively cheap , but check to see if you need a rebore first.
Thanks for the input gang! It's great to not feel so alone in our first scooter fixing effort, and thanks to the BBS there is always someone to ask for help. Isn't the internet a cool thing?
Other than pulling the head the only other thing that we've been messing with is buffing out the front wheelie dealie. This is going to take some time, but it sure will be worth it.