R Scooter Club of Monterey County
We don't have a clutch nut tool.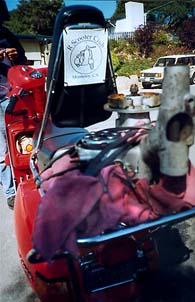 8-29-98
The clutch nut tool has been orderd, but we are so excited about cracking open the engine cases we decide to go visit Bob at the Moped shop and borrow his clutch tool.
Could this be the first Vespa with two engines?
Below (later the same day) Pete has separated the cases, and I enjoy in the victory of holding prime engine bits!
There was some rust to deal with, but not too bad. We will consult the local scoot shop.