R Scooter Club of Monterey County
We meet on wednesday night around 7ish at Morgan's Coffee House in Monterey. If you see the scoots, drop in and say hello.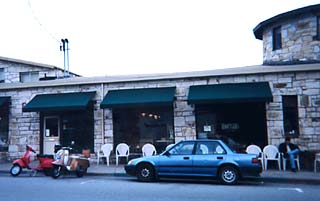 ---
The R Scooter Club meeting on June 14th 2000!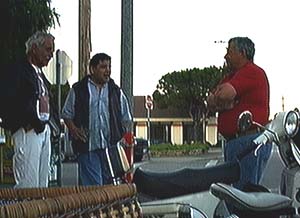 Here Carlos discusses the finer points of scootering with the Cushman guys Ken and Bob.
Meanwhile, Joe reads an article from Mechanix Illustrated entitled "How to Drive a Motor Scooter"
---
Superbike Demos on Cannery Row July 11, 1998
Kings Classic in San Francisco August 14-16, 1998
The Cushman Club Ride Sept 12, 1998
Skutober in San Diego Sept 26-27, 1998
The Big Sur Ride Oct 18-18, 1998
BTSC Toy Run Dec 5, 1998
Amerivespa July 11, 1999
Yeah... in 2000 we started leaving the camera at home... so?